Whether you're escaping the gridlock of rush hour traffic, getting together with friends or co-workers, wanting to find a place to begin a long-awaited night out with the girls, or a local (or visitor) looking to quench your thirst in a comfortable, friendly environment, Happy Hour is what it's all about!
Santa Monica has everything you could want including some of the best, and most unique, places to get your drink on!
What does Happy Hour mean to you?
Trendy sophistication, dive, neighborhood bar, English Pub, Café, or restaurant & bar?
We've found the best of each. Below are 19 of the best places where gastronomic delights and spirits await you in Santa Monica.
Click To Tweet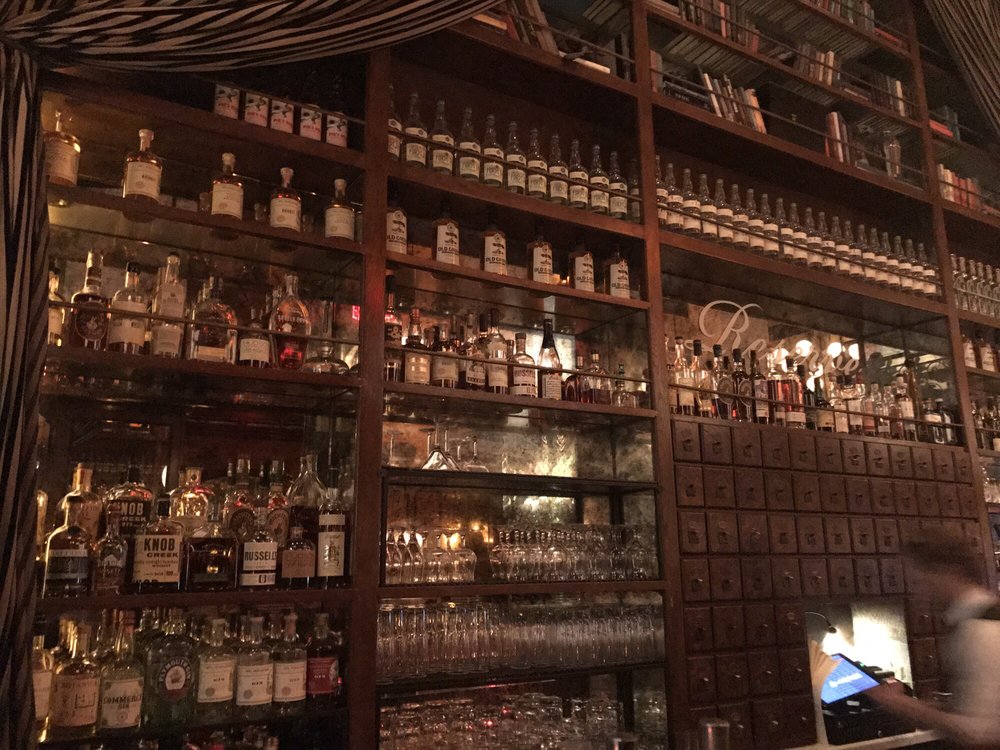 Address: 225 Santa Monica Blvd Santa Monica, CA 90401
Phone: (310) 656-9800
Alcohol Served: Full Bar
Yelp Price Range: $$
The Misfit Restaurant and Bar
Known as one of the best bars in Santa Monica, The Misfit knows food and drink, and presents their specialties in an atmosphere teeming with nostalgia.  Listed as the best Westside happy hour by the LA Times, patrons are treated to discounted signature cocktails, well drinks, mimosas, specialty draft beers, wine, and sangria every day from opening to 7 pm. The Misfit's signature drinks are their specialty and include such favorites as The Misfit Cocktail, Goodnight Emilie, the Mezcal Yellow Jacket, and White Sangria to name a few. Although Happy Hour extends to drinks only, the Restaurant's lunch and dinner menus offer a wide range of delicious culinary delights. Check out the Bar Fly Lunch each weekday from noon-4 pm for the $6 lunch special of the day; but only if you're seated on a barstool!
Happy Hour: Daily from open to 7PM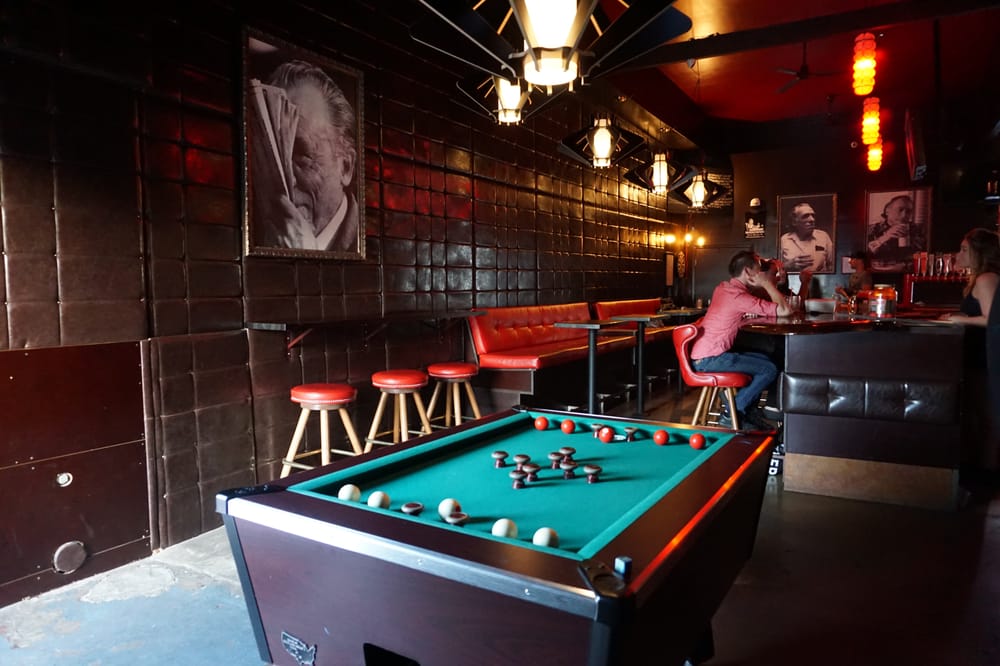 Address: 2819 Pico Blvd.
Phone: (310) 998-0069
Alcohol Served: Beer and Wine
Yelp Price Range: $
Barkowski
The ambiance of this 1960's retro bar scene sets the tone for a perfect respite from the outside world. Founded in homage to the hard-drinking Charles Bukowski, the American poet and novelist, the down to earth happy hour vibe is a favorite among locals. No hard liquor here, but a solid selection of beers, wine, and soju cocktails. Try a Beer Float made with alcoholic root beer for a twist on an old favorite that you won't soon forget or, a favorite of many, the Moscow Mule. Tips: You can bring your own food to munch with a cold one, and there's plenty of parking in the rear of the building. Oh, and while you're there, go ahead and pop open a Schlitz in memory of Barkowski. He'd like that.
Happy Hour: Daily 5-7pm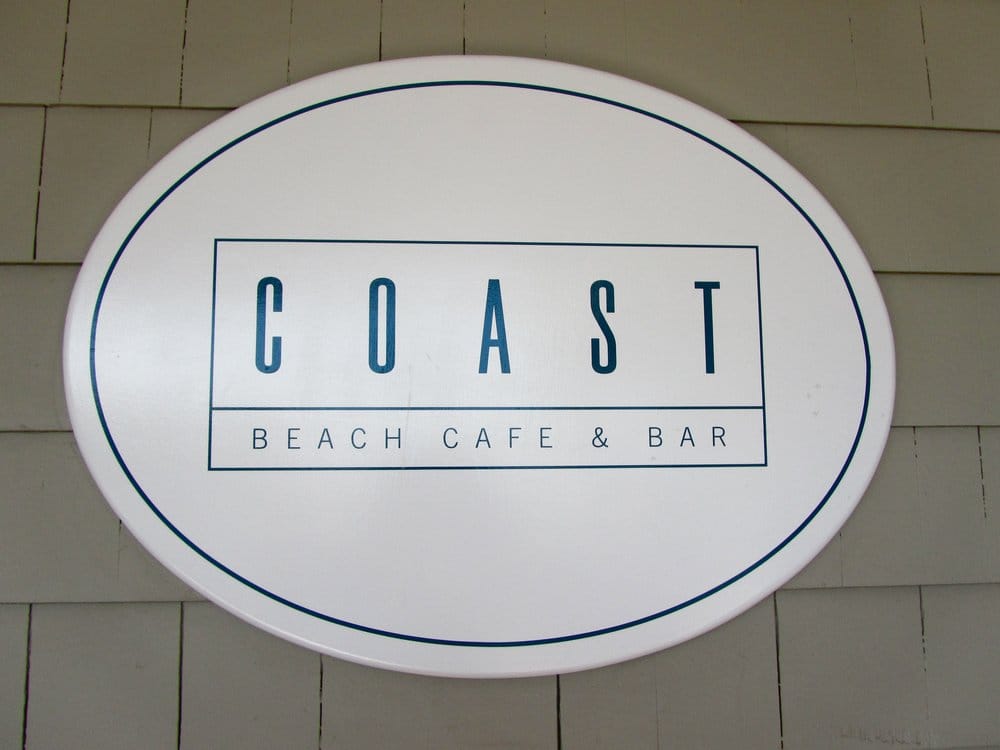 Address: 1 Pico Blvd Santa Monica, CA 90405
Phone: (310) 587-1707
Alcohol Served: Full Bar
Yelp Price Range: $$$
Coast Beach Café & Bar
Distinguishing itself as a relaxed, casual beachfront cafe and bar, Coast offers a happy hour menu which includes a selection of appetizers such as fish tacos, meatball sliders, and an "Oyster of the Day," as well as affordable happy hour wines, specialty cocktails including the Pomegranate Wave Martini, Berry Mojito, Tito's Mule, and a Tesla Margarita, and a $6 draft beer of the day. Whether you want to soak up the light and bright beachy atmosphere or sit and play a game at the bar with a friend, you'll enjoy the open and friendly nature of this café & bar.
Happy Hour: Sunday – Friday 4-7pm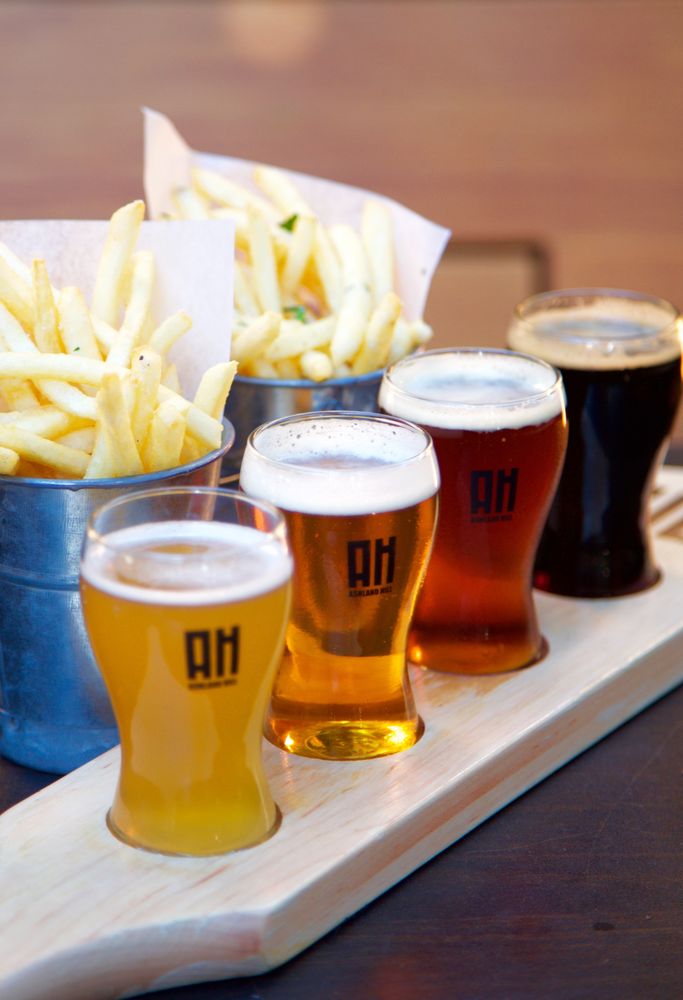 Address: 2807 Main St.
Phone: (310) 392-3300
Alcohol Served: Full Bar
Yelp Price Range: $$
Ashland Hill
This Main Street gem is a popular self-service eatery and beer garden. Sought-out by some for their dog-friendly, casual mindset, the outdoor covered patio welcomes all who seek to spend the Social Hour (Ashland Hill's equivalent of Happy Hour) in lighthearted conversation in cozy, modern atmosphere. The Social Hour extends from 3-5 pm Monday-Friday and offers a selection of reduced-priced "Bites" including Herb Parmesan French Fries, Bacon Mac & Cheese, a selection of salads, and the Ashland Hill Burger to name just some of the delectable items on the SH menu. Social hour libations include draft beers, well drinks, house gin & tonic's, and draft wines all for $6.
Happy Hour: Monday – Friday: 3-6pm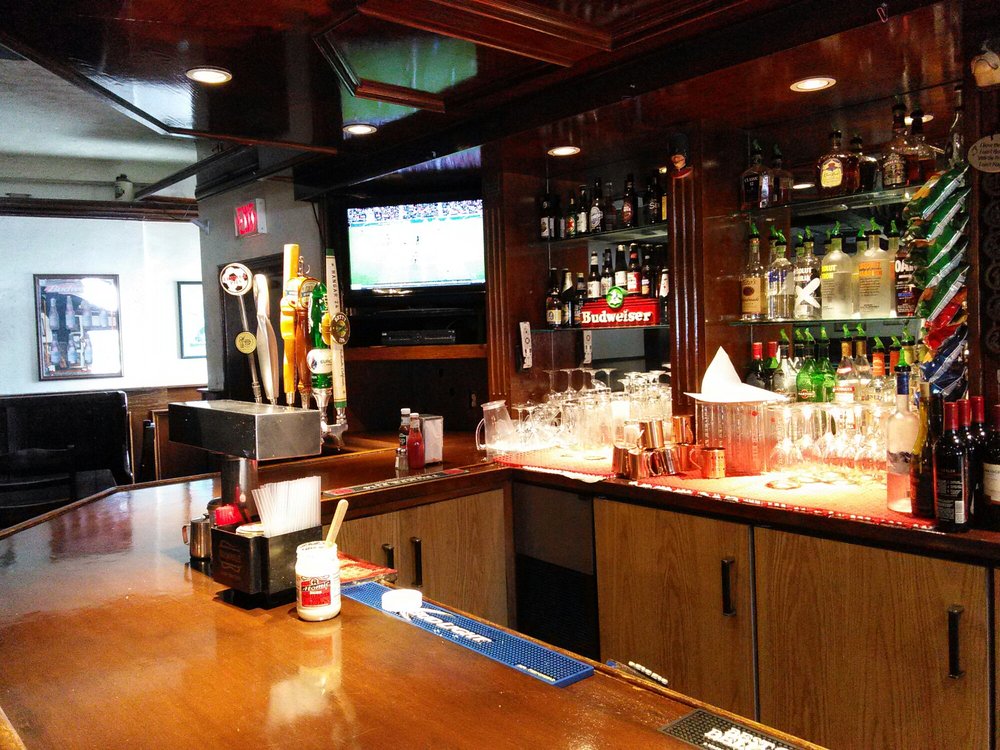 Address: 2947 Lincoln Blvd
Phone: (310) 399-9696
Alcohol Served: Full Bar
Yelp Price Range: $$
Cock 'n Bull
An authentic classic English pub in the heart of Santa Monica, Cock 'n Bull offers a traditional happy hour Monday-Friday from 4-7pm with $5 well drinks, $4 draft beer, and $3 bottled beer. Although there are no food specials during happy hour, the Cock 'n Bull serves classic English pub food at all times. Don't miss out on trying the Bangers and Mash, Shepherd's Pie, or the Fish and Chips. Come for happy hour and stay for the fun! How about a game of darts or pool? Nightly entertainment includes karaoke, a piano singer, trivia night, and salsa dancing including lessons
Happy Hour: Monday – Friday: 4-7pm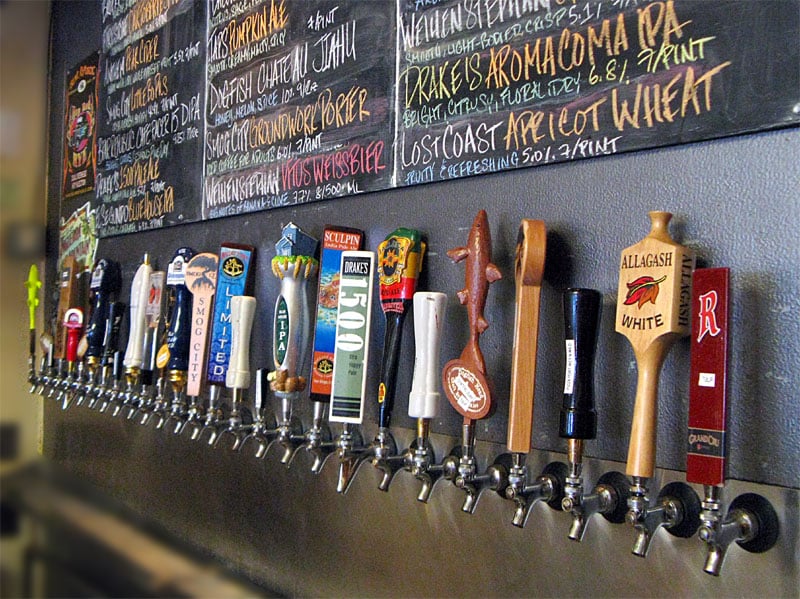 Address: 2911 Main St.
Phone: (310) 314-4855
Alcohol Served: Beer and Wine
Yelp Price Range: $$
The Library Alehouse
You'll find The Library Alehouse in a bustling Main Street location within walking distance from Venice Beach. This gastropub with a hipster vibe is the perfect place to enjoy happy hour or a "study break" as it's called at "The Library." Study Break specials include half-off selected draft beers, $3 off all wine by the glass, and food specials. Times are 3-6 pm weekdays. The Library has a great selection of IPA's and other craft beers for your enjoyment and weekday food specials include Burger Mondays and Taco Tuesdays. But don't limit yourself, try some Frickles (fried pickles), the braised short ribs poutine, a bison burger with curly fries, or any of the other gastro-delights awaiting you.
Happy Hour: Monday – Friday: 3-6pm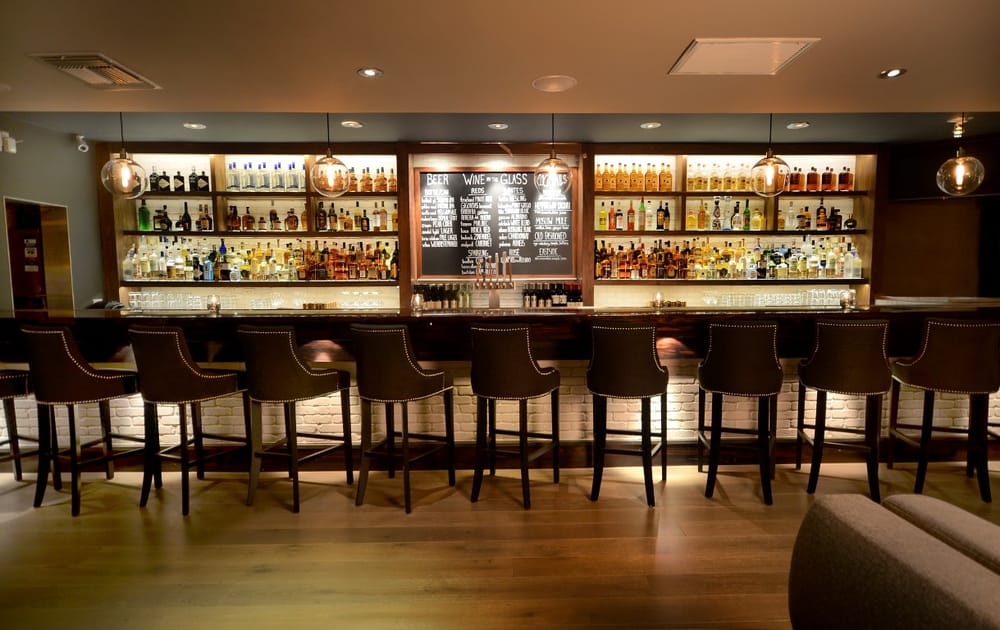 Address: 1519 Wilshire Blvd
Phone: (310) 394-7722
Alcohol Served: Full Bar
Yelp Price Range: $$$
Estate Restaurant + Bar
The atmosphere of Estate blends modern sophistication with warm relaxation. Beautiful surroundings highlight the ambiance while delicious fare rounds out the experience. Happy hour is observed in the downstairs bar and lounge from 5-7pm daily. All draft beer, and select bottles, are $5 during happy hour, and select house wine by the glass is $6. Assorted cocktails, including the very popular "Eastside," are $7. Bar food specials range from $6-10 and include Chicken Pad Thai, a Crispy Chicken Burger, Panko Breaded Shrimp, and more.
Happy Hour: Daily 5-7pm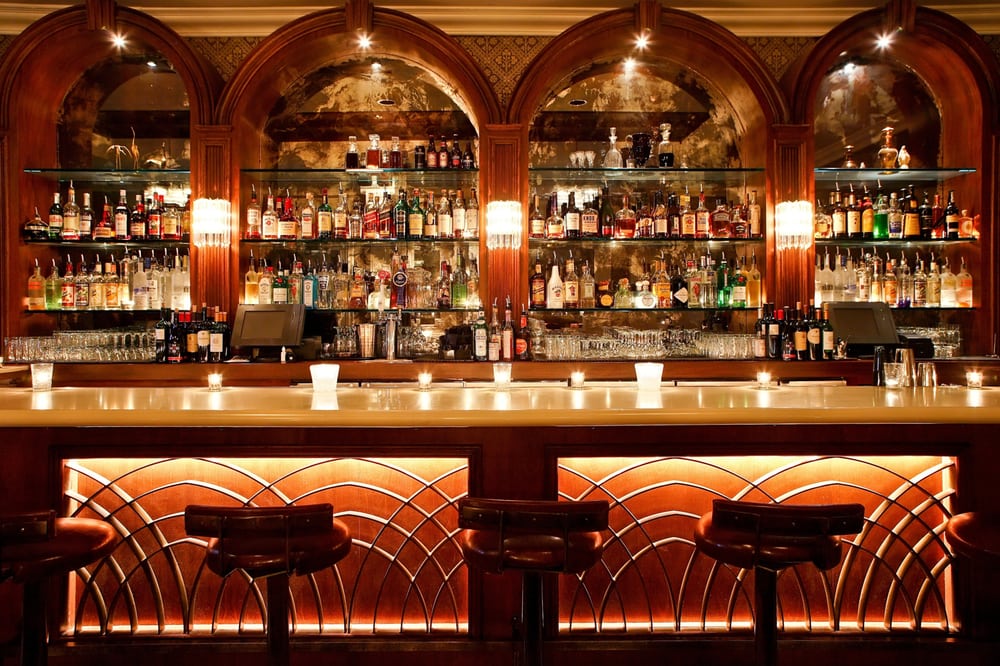 Address: 1449 2nd St.
Phone: (310) 899-6999
Alcohol Served: Full Bar
Yelp Price Range: $$
Bar Chloe
Deemed the "Best Bar in Santa Monica" by LA Weekly, Bar Chloe is an upscale casual alternative to some of the other bars in the area. Close to the Third Street Promenade and Venice Beach, the elegant aura of candle-light and chandeliers distinguishes Bar Chloe as a casual, trendy, yet elegantly swanky respite from the outside world. Weekday happy hour is from 5:30-7:30 pm. Moscow Mule or Old Fashioned cocktail, $7. Red or white wine of the day, by the glass, $7. Beer (Stella Artois or Santa Monica XPA), $5. Happy hour snacks are also offered for $7.
Happy Hour: Monday – Friday 5:30-7:30pm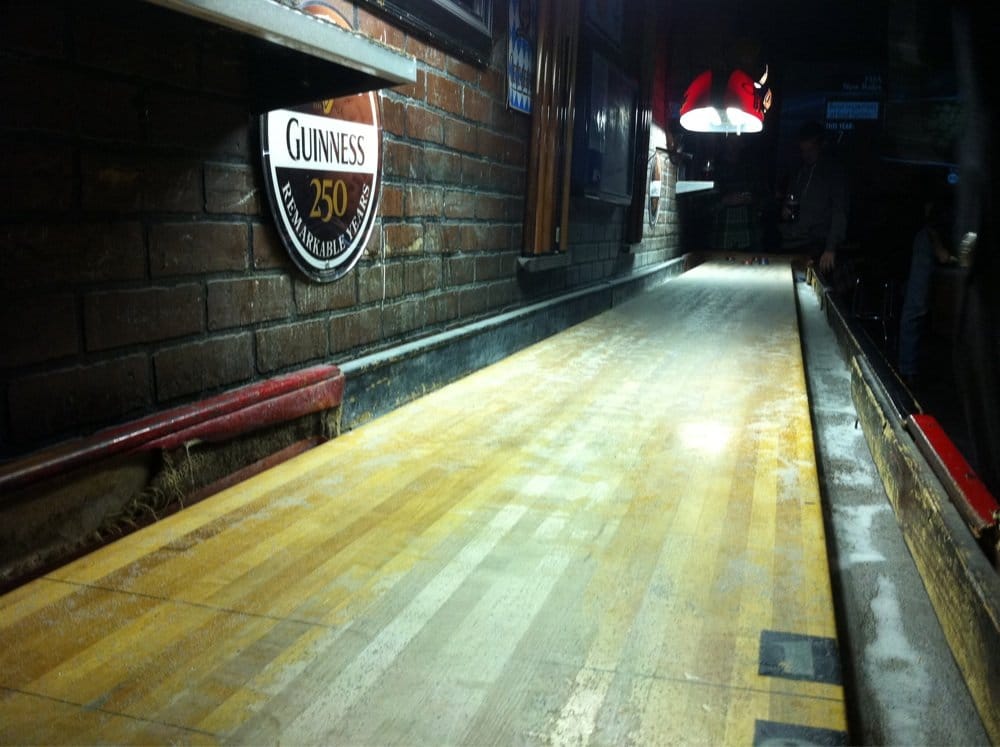 Address: 2310 Pico Blvd
Phone: (310) 450-7631
Alcohol Served: Full Bar
Yelp Price Range: $$
The Daily Pint
For over twenty-five years, The Daily Pint has been pouring shots and pulling pints for locals. This is a true dive bar, but if you're up for it, you will be rewarded with the "largest collection of single malts in the Western United States" and a huge selection of California craft beers, Belgium varieties, hard cider, and more. During happy hour you'll get $1 off draft beer.
Happy Hour: Monday – Thursday 2-6pm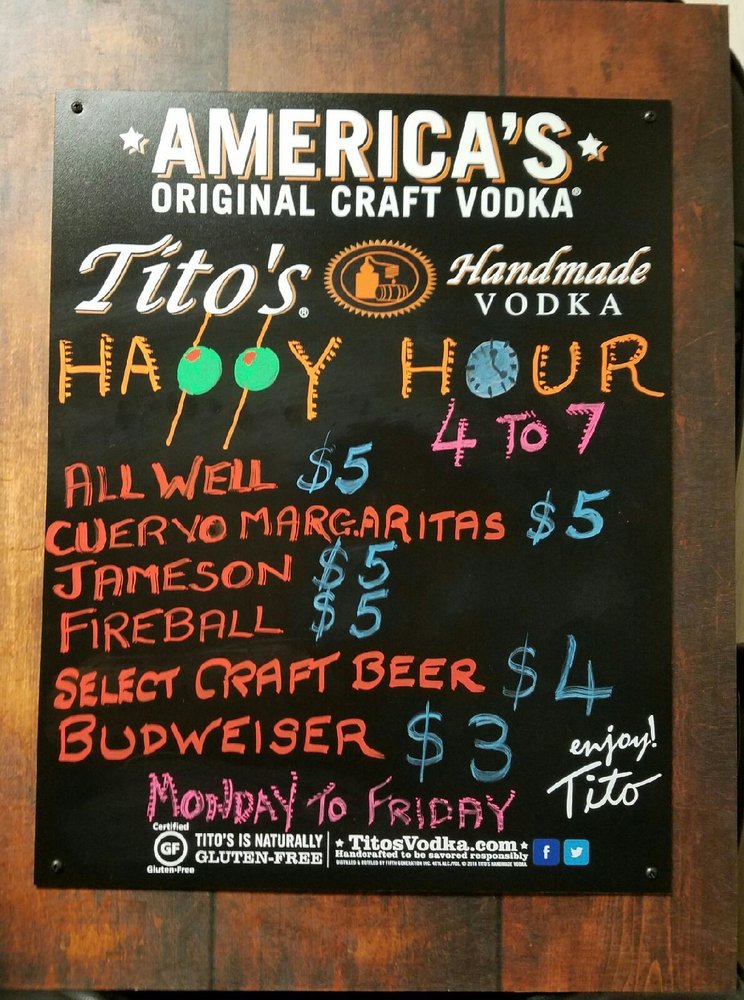 Address: 1326 Pico Blvd
Phone: (310) 450-4989
Alcohol Served: Full Bar
Yelp Price Range: $
Speak Easy Cocktail
A Santa Monica staple, the Speak Easy is one of the best dives on the Westside. Looking for a cold, reasonably priced beer, friendly staff, and a laid-back atmosphere? Look no further. All around great place with comfy booths, a juke box, and pool tables. Nice, quiet, out of the way, and remarkably clean, this neighborhood hang-out bar features good, affordable bar food and strong drinks. Karaoke Saturday scene is great too.
Happy Hour: Monday – Friday 4-7pm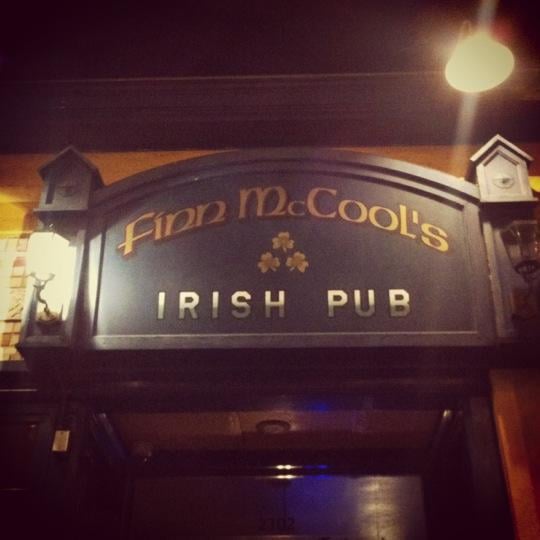 Address: 2702 Main St.
Phone: (310) 452-1734
Alcohol Served: Full Bar
Yelp Price Range: $$
Finn McCool's
Finn McCool's has a cool old-fashioned Irish pub vibe, featuring 18 draught beers, a collection of over 200 whiskeys from all over the world, and an impressive cocktail and wine list. Don't miss McCool's "Beggars Banquet" where you'll find well drinks and house wine for $5 and appetizer specials from $5 – $8. Menu includes a cup of Irish stew with Irish soda bread, Irish milkshakes, goat cheese pesto flatbread, fish & chips, shepherd's pie, mac 'n cheese fritters, and more. Sunday Nights catch traditional Irish music voted the "Best Irish Music in Los Angeles" by LA Magazine. Finn McCool's also hosts weekly Open Mic and trivia nights.
Happy Hour: Monday-Friday 11am to 7pm & 10am to 4pm Saturday-Sunday, Late Night Happy Hour (Sunday through Wednesday) from 9pm to close.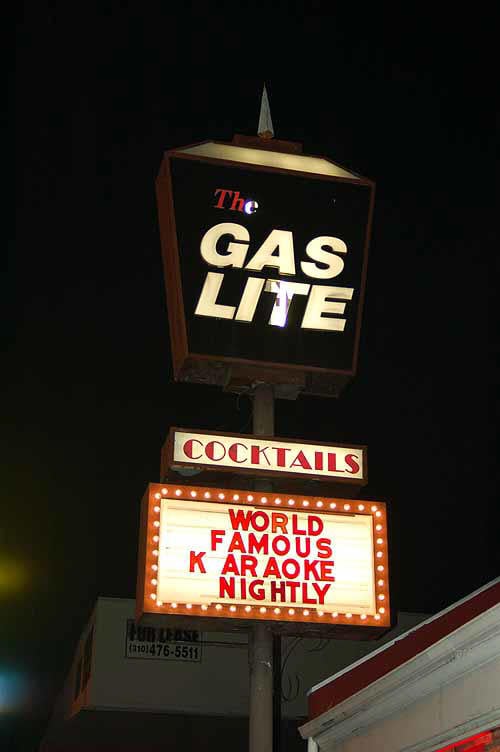 Address: 2030 Wilshire Blvd
Phone: (310) 829-2382
Alcohol Served: Full Bar
Yelp Price Range: $$
The Gaslite
Karaoke is the name of the game at Gaslight. Locals and visitors alike scramble to add their name to the list of nightly performers. A lively and fun atmosphere, Gaslight is the very definition of a great neighborhood dive where everyone is comfortable and friendly. Happy hour specials run from daily from 4-9 pm with $2 off most beverages, $12 buckets of regular beer, and $14 buckets of premium beer.
Happy Hour: Daily 4-9pm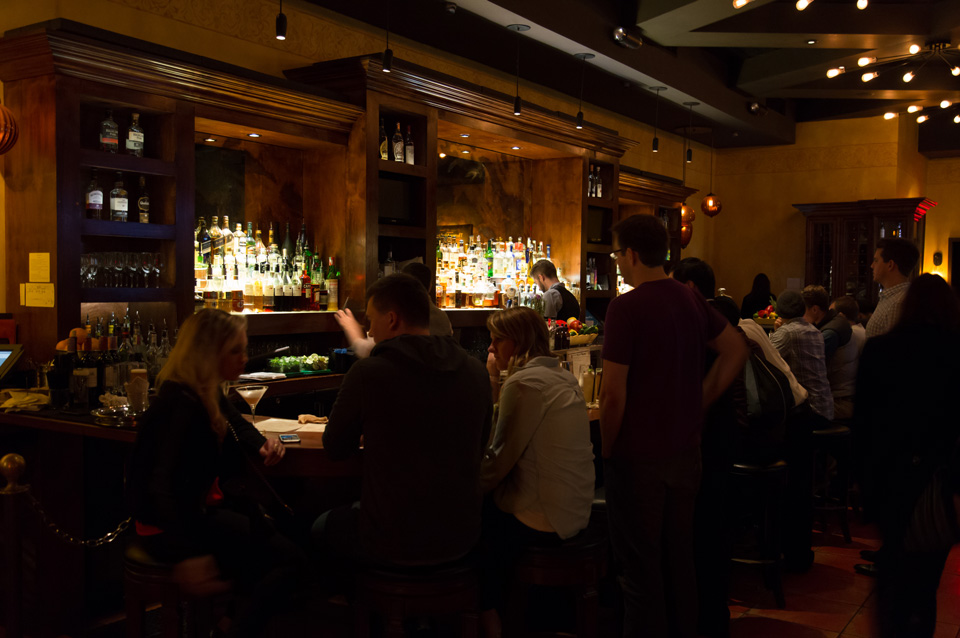 Address: 217 Broadway
Phone: (310) 576-3030
Alcohol Served: Full Bar
Yelp Price Range: $$
Copa d' Oro
Just off of the Third Street Promenade, Copa d' Oro is an intimate, casually upscale lounge. Cozy, black tufted leather couches and dimly-lit tables welcome patrons. Expertly concocted cocktails are a favorite among regulars as this oasis is known for its unique cocktail menu and good, strong drinks. Try one of their amazing cocktails such as the Gold Plated Sidecar with 21-year-old Courvoisier Cognac, Grand Marnier Cinquantenaire, and lemon, or a 5th Avenue Martini, Forget-Me-Not, or King Smoke of Scotland. The food menu offers appetizers and assorted Paninis. Copa d' Oro also offers a DJ, live painting, and bartending classes on certain dates.
Happy Hour: Tuesday – Sunday 530-8pm, Monday 530pm-Midnight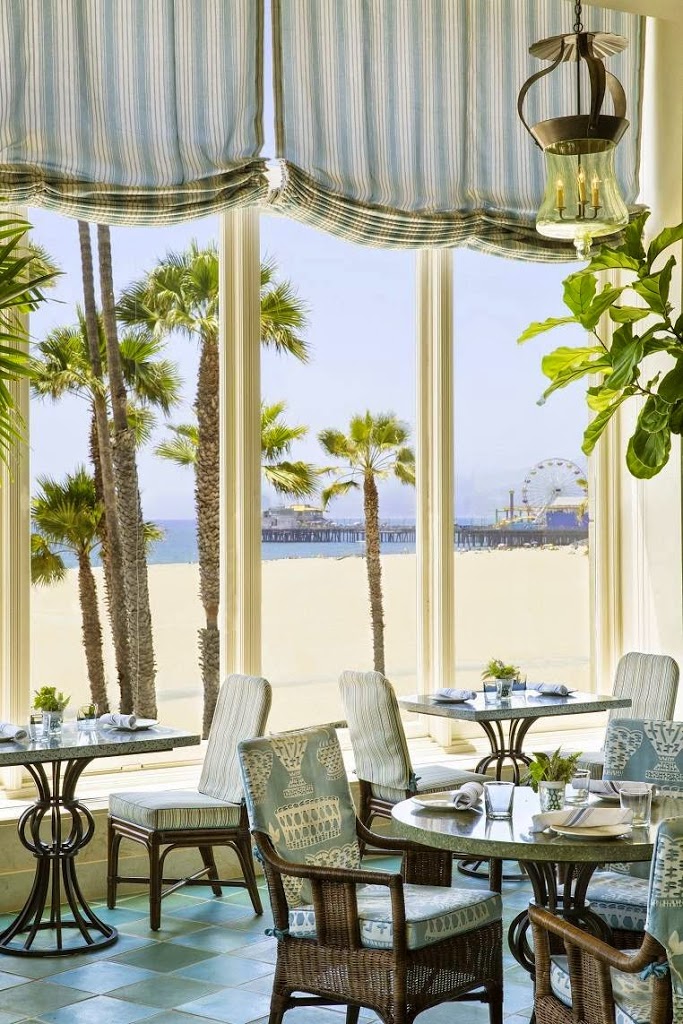 Address: 1910 Ocean Way Hotel Casa Del Mar
Phone: (310) 581-5533
Alcohol Served: Full Bar
Yelp Price Range: $$$
Terrazza
Light, fresh, and opulent describes Terrazza where ambiance is everything. The luxurious surroundings are exceeded only by the 180-degree vistas of the Pacific Ocean at this Italian Café and Lounge at the Casa Del Mar Hotel on the Beach. Happy Hour, Sunday-Thursday 3-6 pm offers $12 craft cocktails including the Perfect Pear with Grey Goose Poire, pear puree, lemon, and thyme, a Caramel Appletini made with Royal Crown whiskey, Applepucker, Butterscotch Schnapps, and apple juice, or a Lumber Jack or Dark and Stormy. Happy Hour also includes select wines for $12, Sangria $9, bottled or draft beer for $7, and $12 pizza. Live music nightly, and a late night DJ from 10 pm -1 am Fridays and Saturdays.
Happy Hour: Sunday – Thursday 3-6pm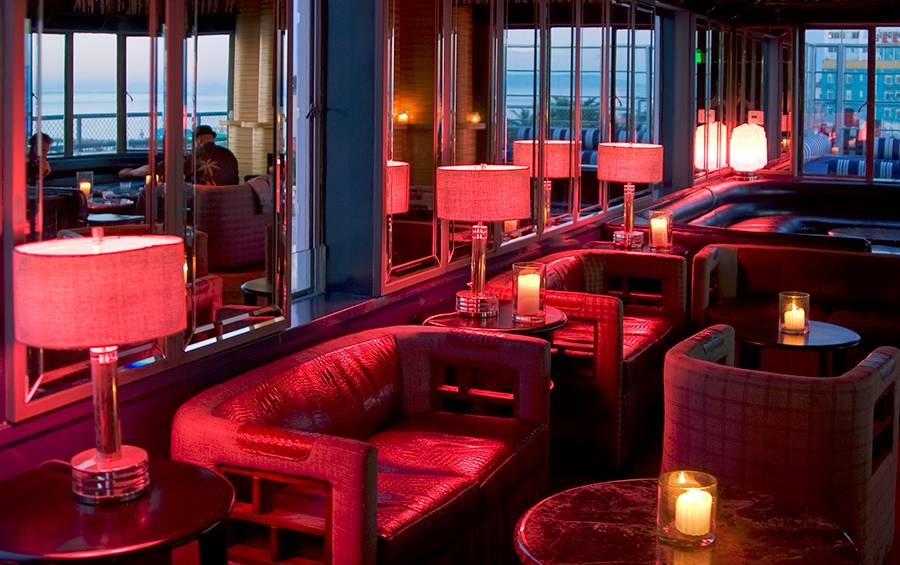 Address: 1301 Ocean Ave
Phone: (310) 394-2791
Alcohol Served: Full Bar
Yelp Price Range: $$$
ONYX Rooftop Bar
Eclectic, but elegant, this rooftop bar atop the Hotel Shangri-La reflects a mid-century modern vibe with tones of Rat Pack retro and space-age 70's galactic touches. The outdoor patio presents stunning ocean views as well as that of the pier and Malibu skyline. Inside, comfortable couch seating beckons. Enjoy a Lavender Lush, Saigon Seduction, Shangri-La Mojito, or any of the other well-crafted cocktails on the drink menu. After 8:00 pm the dress code becomes dress smart casual.
Happy Hour: Monday – Friday 4-6pm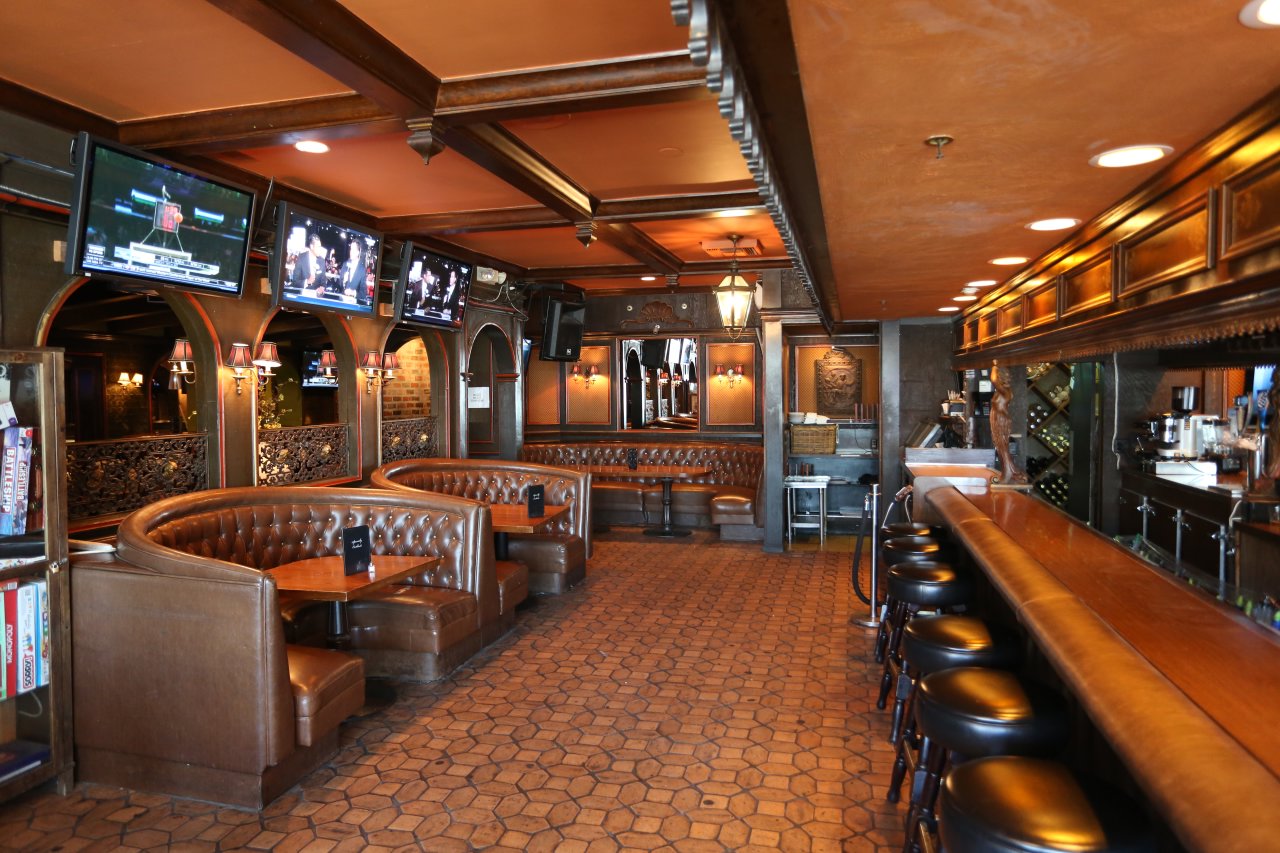 Address: 3110 Santa Monica Blvd
Phone: (310) 828-4567
Alcohol Served: Full Bar
Yelp Price Range: $$
Busby's West
Busby's is the epitome of a fun sports bar, especially for the younger crowd. Although packed on game days, this multi-room bar has much to offer while hanging out with friends. Board games are available to play at your table, try the game room for arcade-style fun, or play pool, ping pong, or even beer pong at this busy location. Happy Hour at Busby's is 4-8 pm, Monday-Friday. Tap beer $5, or try the tacos, pizza, or slider food specials. Busby's West also offers additional nightly drink specials Sunday-Friday.
Happy Hour: Monday – Friday 4-8pm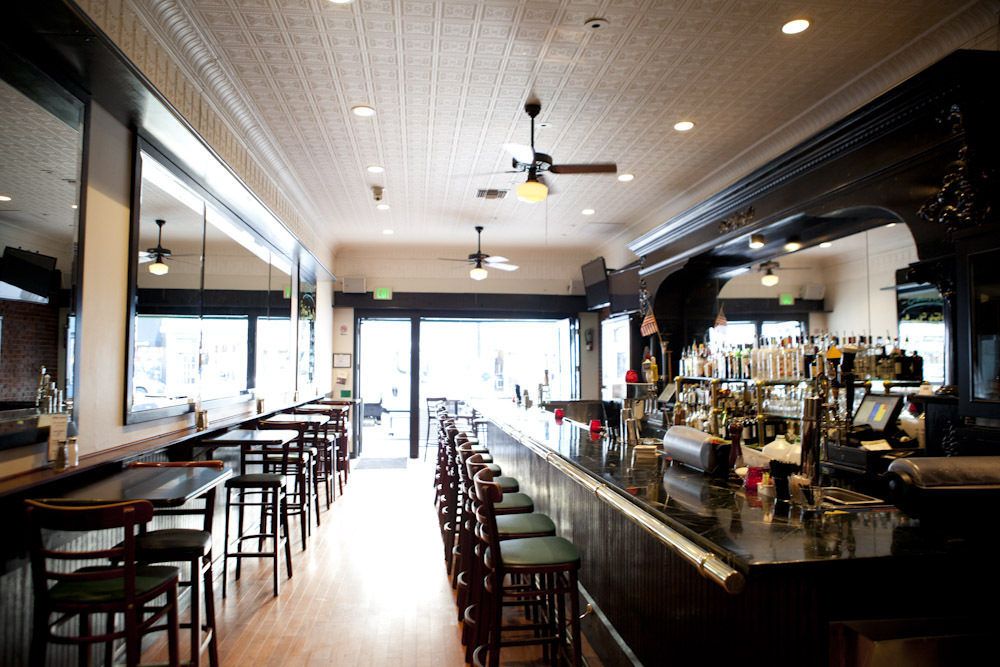 Address: 2907 Main St.
Phone: (310) 392-2772
Alcohol Served: Full Bar
Yelp Price Range: $$
Rick's Tavern on Main
Rick's Tavern on Main, RTOM, is a casual neighborhood pub and sport's bar in Santa Monica. In the midst of several other bars and lounge establishments surrounding RTOM, locals and visitors alike find a no frill, "where everybody knows your name" type atmosphere. Happy Hour specials run 4-7 pm Monday-Thursday, 3-7 pm Fridays, and an additional Late Night Happy Hour on Wednesdays from 10 pm to midnight. In addition to $5 well-cocktails, selected beers, and house wines, food specials include the popular Classic Tavern Burger, Tavern Skins, Wings, and other bites.
Happy Hour: Monday – Thursday 4-7pm, Friday 3-7pm, Wednesday 10pm-12 am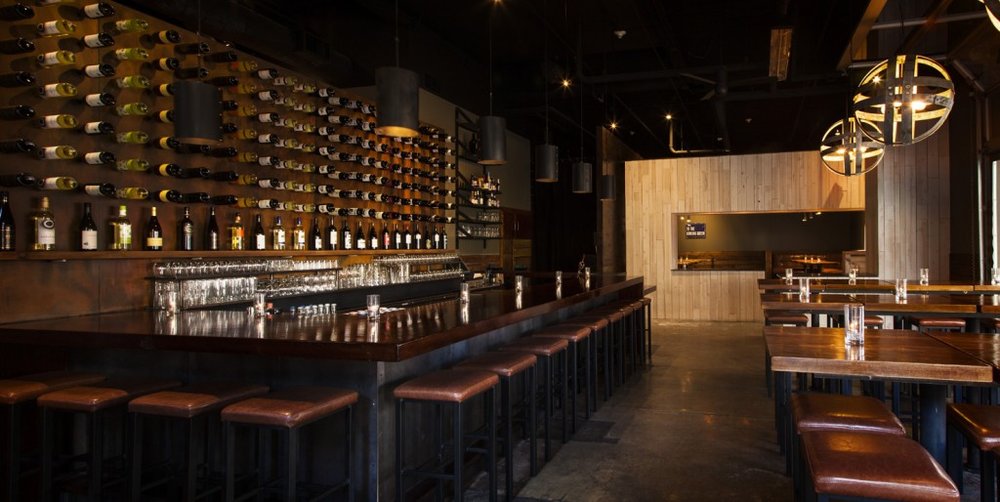 Address: 814 Broadway
Phone: (310) 394-3504
Alcohol Served: Beer and Wine
Yelp Price Range: $$
The Bodega Wine Bar
A nice change of pace from the sports bar scene, the attentive staff of the Bodega Wine Bar welcomes patrons to a different kind of Happy Hour in Santa Monica. Intimate lighting, couch seating, and community tables accentuate the laid-back, trendy atmosphere of this wine bar. Happy Hour specials include $6 wine by the glass, $16 carafes, $22 bottles, $4 beers, and $6 Soju drinks. For a bite between sips, Happy Hour specials include $6 starters and $8 pizzas. The bodega can get quite busy so come early!
Happy Hour: Monday – Friday 5-7pm, Sunday – Thursday 10-close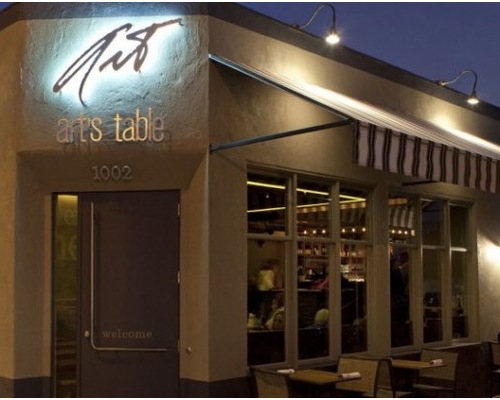 Address: 1002 Montana Ave
Phone: (310) 395-2500
Alcohol Served: Beer and Wine
Yelp Price Range: $$
Art's Table
Looking for a Happy Hour with a more casual vibe and great food options? Named in memory of a local educator and historian, Art Verge, Art's Table is a casual, neighborhood restaurant and bar serving market fresh seasonal menu items with a nice selection of beer and wine to suit the savvy patron. Try a Montana Mule made with Bundaberg Ginger Beer, fresh lime juice, bitters, Orange Vodka Wine, and mint, or a Hefeweizen Beer along with any number of delectable gastronomic delights such as the Lobster Mac n' Cheese. The "Social Hour" runs 3-6 pm daily, offering $4 Baby Beers, specialty cocktails, house wines by the glass "BOGO" (Buy one, give one), and mini bites.
Happy Hour: Daily 3-6pm