I. Introduction to Cleaning Car Leather Seats
Maintaining and cleaning leather seats can be a hassle if you are not prepared for the task. There are many cleaning products and techniques, but you don't want to risk damaging your expensive leather.
So we've consulted with our best detailers who have decades of combined experience to create the most comprehensive guide on the Internet to cleaning leather car seats.
In this guide, we'll go over the different types of leathers used in cars, causes of leather wear, the best ways to clean leather car seats, and how to condition leather seats and then go over some tips on how you can maintain your leather.
It gets better…
We've included our best kept secrets to clean leather seats.
II. Types of Leather
There are four main leather types that are commonly used in car seats: Aniline, Semi-Aniline, Full-Grain, and Corrected Grain Leather. Knowing which leather your car seats are made from is a crucial step in learning how to clean and maintain it.
A. Aniline Leather
Aniline leather is not used much anymore. It was used quite extensively in the past century, but it has seen a drastic decrease in use in the last two decades.
Aniline leather is considered to be the finest leather available because it is uses the best hides. It is rich in color and very soft to touch. This leather has only been colored with dyes. It does not have any type of protective coating or surface dye applied to it. You're more likely to see the natural texture of the hide.
Without the protective coating, aniline leather is the least resistant to wear and requires great care. It tends to lose color quickly too.
The good news is your car most likely doesn't have this type of leather.
B. Semi-Aniline Leather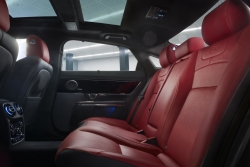 Semi-aniline leather is leather that has been colored with aniline dyes. But after the coloring process, there's a protective coat applied to the aniline leather to make it more resistant. The coat also makes the color more uniform.
Semi-aniline leather is considered to be 'finished' leather while aniline leather is often called 'unfinished'.
Semi-aniline retains some of the fluffiness of natural leather, but is also much more resistant to spills, scratches, and other wear that your seats may suffer.
This type of leather is generally found in the higher end cars.
C. Full-Grain Leather
Napa leather is a full-grain leather. This leather is commonly used in luxury vehicles. The texture is not corrected, which means it retains the original markings of the hide.
A more protective coating and pigmentation is applied, making full-grain leather more durable than the aniline leathers.
It is considered a step down from aniline leather, but still retains a luxurious feel.
D. Corrected Grain Leather
Corrected grain leather is the least natural of the bunch, but also the most resistant. It still feels nice to the touch, but you can feel a significant difference between this and the aniline leather.
The production materials are more likely to have flaws that are corrected during the buffing process.
With that being said, this is the recommended type of leather if you have kids or pets.
This type of leather is found the lower to medium end vehicles.
d. Identifying your Leather
Most car manufacturers disclose the type of leather used in car seats, but if you still aren't sure then you can try our quick test.
To identify what leather you have, you need to do is to add a drop of water on your seat.
Aniline leather will absorb the water as soon as it gets in contact with surface.
Semi-aniline leather takes a little longer but will slowly absorb it.
While more pigmented leathers like full-grain and corrected grain will tend to lets the water slide.
III. Causes of Leather Wear
Leather can wear out fast if it doesn't receive the care and attention it needs. Before we dive into how to clean leather seats, we will explain what causes leather to wear out fast.
A. Normal Wear & Tear
You'll find that your driver seat looks the worst, because it's most frequently used. Every time the driver gets into their car, they scratch the backrest and sometimes the armrests.
This, over time, can produce cracks if you don't clean and maintain your seats. This is considered normal wear and tear and cannot be avoided.
B. Dirt wears leather down fast
Dirt will always get into your car one way or another, all you can do is minimize and clean.
It gets worse…
Dirt also acts as an abrasive against the leather.
This can lead to cracks and color fading in the long run.
This is why we recommend that you clean leather seats every month and do a complete detail at least 2-3 times a year.
C. Body Oils and Sweat
Another unavoidable cause of leather wear: body oils and sweat.
When you drive, you may sweat and these fluids get absorbed into your leather. Over time, this will reduce the lifespan of the leather.
The leather should have a matte look. The shine you see in your leather seats comes from body oils and sweat.
D. Spills
Accidents happen. Someone drops food or a drink and doesn't clean up properly, but if you want to keep your leather in showroom quality, clean up immediately!
Now…
The part you've been waiting for:
We will show you the best ways to clean and condition leather car seats.
IV. How to Clean Leather Seats
We will go over several methods that you can use to clean leather seats, from mild to aggressive. Most of the time you won't need anything more than a towel and some cleaning agent. We would advise you on the more aggressive methods for stubborn stains.
Important Tips To Remember While Cleaning Leather Seats
Always clean a small section at a time. This ensures that if you are using a cleaning agent that damaging or discolors your leather, you are minimizing the damage.
Never let the solution dry up. After you scrub each section, clean it with a microfiber towel. All the dirt is in in the solution after you scrub. By letting it dry, you let the solution sink back into your seat.
It's always a good idea to vacuum your seats first.
Vacuuming helps remove accumulated dust, which acts as an abrasive, between the ridges of your seats.
Use a special attachment for upholstery. Make sure the attachment is made out of plastic to avoid scratching your leather.
Clean Leather Car Seats with Household Products
Now, let's talk about cleaning solutions. If you're looking to use household products or something with no chemicals, then we recommend this.
You can create your own cleaning solution using vinegar and water:
Three parts vinegar
One part water
Some people recommend using one part vinegar and two parts linseed oil. However, both solutions are good leather cleaning agents.
Before you start cleaning your seats with these solutions, do a spot test: spray a little solution on a hard to see the area from your seat and clean it with a towel. This is to make sure it does its job and does not damage your seat.
Clean Leather Car Seats with Commercial Products
If you don't want to make solutions at home, you can buy an all-purpose cleaner or a dedicated cleaning solution. Meguiar's Super Degreaser or all-purpose cleaner are good choices. For dedicated products, there is Lexol and Chemical Guys.
Washos' Way to Clean Leather Car Seats
When cleaning your car, we recommend that you go from the least aggressive to the most aggressive method. It's always recommended to clean your seats with the least aggressive method possible to avoid damaging them.
I. The Light Leather Cleaner
This is the least aggressive method for cleaning your seats.
What you will need:
A microfiber towel
Some cleaning solution
Spray some solution on the section you want to clean and then clean it by applying moderate pressure.
If you clean your car every month, this should keep your leather seats clean. If this doesn't work, try the next method.
II. The Painter Cleaning Technique

For this leather seat cleaning technique, you will require a scrub brush or, if you have a big paintbrush, that can work too.
If you are using the paintbrush, make sure you cut the hairs about halfway through so they clean better.
Spray some solution on the section and then scrub with the brush applying mild to moderate pressure. Don't use too much pressure, as you risk damaging your seats.
Use circular motions while scrubbing.
After you're done scrubbing, clean the solution with a microfiber towel while applying moderate pressure.
This should work in most cases. If this doesn't work, it's time to get the big guns.
III. Steaming Leather Approach
This is the last method you can try at home.
It is one of our best-kept secrets.
You will need to get a steamer.
Why a steamer?
The steam works better than warm water as it helps exfoliate the seat.
Spray some solution on the section.
Put a microfiber towel over your steamer and use that towel to clean the seat.

Apply moderate pressure.
What's the bottom line?
Remember to be gentle while cleaning leather seats. Regular cleaning will significantly increase the lifespan of your leather seats.
If none of the techniques worked for you, have an expert detailer take a look at it. The last thing you will want to do is increase the damage.
How can I clean perforated leather seats?
For perforated seats the process is similar.
If your seats have heating, instead of spraying the seat, spray the solution on your towel.
Use that towel to clean your seat.
After this, use a dry towel to clean the solution.
If you are scrubbing your seats, spray the solution on your brush.
After scrubbing, use your dry towel to clean the solution.
If you suspect some solution might have leaked through your seat, turn on the heating to make sure it dries up.
V. How to Maintain Leather Car Seats
As we've said earlier, protecting the leather is the key for healthy car seats.
You may want to clean your seats every month and apply conditioner for that extra touch.
It's always better to spend a little time each month cleaning your car seats than to spend the money on new seats a few years down the road. Give your car a mini detail once every month if you would rather have a pro handle it.
Sunlight fades the color of your seats and also damages the leather, making it stiff.
If you want your car to be as healthy as possible, keep it in a garage or at least in the shade.
Apply conditioner for a soft feel.
Keep reading for our dedicated section on conditioning leather and why you should be using it.
VI. How to Condition Leather Seats
Leather conditioning is a recommended add-on to your cleaning.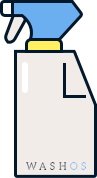 The leather conditioner helps keep your seats from stiffing. It also preserves the color of your seats.
This is our secret to making leather seats look like they just left the dealership.
Before applying a leather conditioner, here are some steps to follow:
Dry the leather thoroughly before you condition it.
Don't be afraid of putting too much conditioner, but make sure to wipe off the extra with your microfiber towel.
Let the conditioner sit for 20-30 minutes
Use the best product and do not buy something cheap unless you are certain the product is reliable
You're probably wondering…
How often should I condition leather seats?
You should condition your seat every 3-5 weeks, especially if you want to avoid cracks in the leather. This will keep your seats well maintained in the long run.
VII. Conclusion
Remember that it's always better to spend a little time now to clean leather seats than it is to spend more money down the line for new seats.
Leather seats are a luxurious addition to any car. They look and feel great!
If they receive the proper care, they can last for the car's lifespan.
Hopefully this article helped you keep your leather seats in pristine condition.
Thank you for reading!
Please leave a comment below if you found this guide helpful or if you had any questions.